Is Our Fight Against Coronavirus Worse Than the Disease?
There may be more targeted ways to beat the pandemic.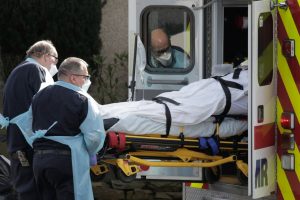 We routinely differentiate between two kinds of military action: the inevitable carnage and collateral damage of diffuse hostilities, and the precision of a "surgical strike," methodically targeted to the sources of our particular peril. The latter, when executed well, minimizes resources and unintended consequences alike.
As we battle the coronavirus pandemic, and heads of state declare that we are "at war" with this contagion, the same dichotomy applies. This can be open war, with all the fallout that portends, or it could be something more surgical. The United States and much of the world so far have gone in for the former. I write now with a sense of urgency to make sure we consider the surgical approach, while there is still time.
Outbreaks tend to be isolated when pathogens move through water or food, and of greater scope when they travel by widespread vectors like fleas, mosquitoes or the air itself. Like the coronavirus pandemic, the infamous flu pandemic of 1918 was caused by viral particles transmitted by coughing and sneezing. Pandemics occur when an entire population is vulnerable — that is, not immune — to a given pathogen capable of efficiently spreading itself.
Immunity occurs when our immune system has developed antibodies against a germ, either naturally or as a result of a vaccine, and is fully prepared should exposure recur. The immune system response is so robust that the invading germ is eradicated before symptomatic disease can develop.
Importantly, that robust immune response also prevents transmission. If a germ can't secure its hold on your body, your body no longer serves as a vector to send it forward to the next potential host. This is true even if that next person is not yet immune. When enough of us represent such "dead ends" for viral transmission, spread through the population is blunted, and eventually terminated. This is called herd immunity.
What we know so far about the coronavirus makes it a unique case for the potential application of a "herd immunity" approach, a strategy viewed as a desirable side effect in the Netherlands, and briefly considered in the United Kingdom.
The data from South Korea, where tracking the coronavirus has been by far the best to date, indicate that as much as 99 percent of active cases in the general population are "mild" and do not require specific medical treatment. The small percentage of cases that do require such services are highly concentrated among those age 60 and older, and further so the older people are. Other things being equal, those over age 70 appear at three times the mortality risk as those age 60 to 69, and those over age 80 at nearly twice the mortality risk of those age 70 to 79.
These conclusions are corroborated by the data from Wuhan, China, which show a higher death rate, but an almost identical distribution. The higher death rate in China may be real, but is perhaps a result of less widespread testing. South Korea promptly, and uniquely, started testing the apparently healthy population at large, finding the mild and asymptomatic cases of Covid-19 other countries are overlooking. The experience of the Diamond Princess cruise ship, which houses a contained, older population, proves the point. The death rate among that insular and uniformly exposed population is roughly 1 percent.
We have, to date, fewer than 200 deaths from the coronavirus in the United States — a small data set from which to draw big conclusions. Still, it is entirely aligned with the data from other countries. The deaths have been mainly clustered among the elderly, those with significant chronic illnesses such as diabetes and heart disease, and those in both groups.
Read the full article at The New York Times.